10 Benefits of Eating Healthy Food
Eating Healthy Food Benefits
So, we all basically agree that healthy food is great and we should be eating it more often than we already do. Despite knowing this very fact, we refuse to do so. Why is that?
Firstly, we all also seem to agree that unhealthy food is mostly much more delicious, even if it is harming your body in unholy ways. Other than that, you need a certain level of motivation to start eating healthy food. We basically live in a world where people cringe at the thought of eating healthy food sometimes even when unhealthy foods might kill them. So motivation is extremely important.
In this article, we will be discussing some major benefits of eating healthy food. For the purpose of this article, we will define healthy food as a well-balanced diet with the recommended nutrients a human needs per day. So you better get cracking on that broccoli!
Why should you Eat Healthy Food: 10 Tips
A healthful diet includes a variety of fruits and vegetables of many colors, whole grains, starches, good fats, and proteins. Check out the importance of Eating Healthy Food.
1. Improves Digestion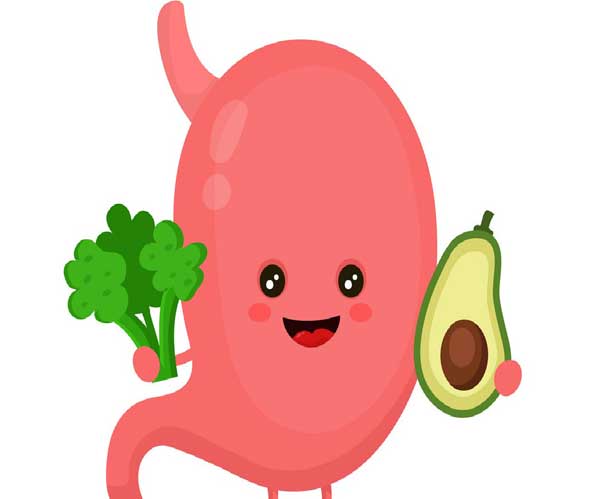 I sometimes like to think of my internal organs as sentient beings whose jobs are to make our body function well. So every time I eat or drink something healthy after a wild spell of terrible eating, I like to imagine them being relieved beyond measure and thanking my brain for making such a wonderful decision.
This holds especially true for our digestive system which can digest simple, healthy food much more easily than processed or complex food. Eating healthy food regularly will keep your stomach functioning much more efficiently as well and this is a difference you will be sure to notice in your daily life.
2. Relieves Bloating
The more complex a food is, the more waste it will release upon digestion. These waste products can build up in your stomach and other areas of your digestive system and cause bloating.
Healthy foods like fruits and vegetables are usually very simple foods and some of them, like bananas and peaches, are especially good for clearing out the stomach and keeping you from feeling bloated.
3. Keeps Your Heart Healthy
Most unhealthy foods contain trans-fats and other harmful components that can cause a lot of fat tissue to accumulate around your heart and keep it from performing its functions properly. They can also block your arteries and cause heart attack and other serious health conditions.
Healthy foods and eating habits that suit your lifestyle will ensure that your heart stays free of excessive fat tissue and keeps pumping blood efficiently for a long time.
4. Regulates Blood Sugar
You can increase your blood sugar level and contract diabetes if you are not careful with your sugar and other carbohydrate intakes. Some fruits, like sapodilla, apple, and mango can also cause your blood sugar to shoot up. If you do end up getting diabetes, you will be dependent on diabetic medication for the rest of your life.
Eating food that has a controlled amount of sugar will prevent diabetes and ensure that you live a long and healthy life, free from diabetic medication.
5. Helps You Stay Active
Unhealthy food can cause bloating and make you lazy and tired. Healthy food, on the other hand, will stop you from feeling lazy and tired and will make sure that you stay active and healthy for as long as possible.
6. Prevents Obesity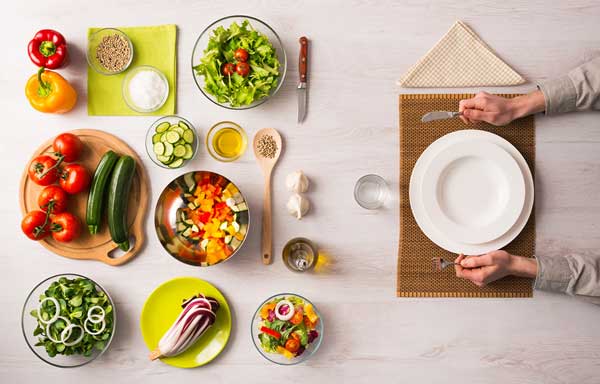 Binge-eating unhealthy food can cause obesity. This is because most unhealthy foods do not contain any fiber content. Obese people who do not plan on changing their eating habits are lazy and prone to a number of diseases and health conditions.
Healthy foods, like fresh fruits and vegetables, are rich in fiber. The fiber in these foods fills you up even when you haven't munched on too much food. The fiber helps in clearing your stomach and preventing obesity.
7. Lowers Stress Levels
Certain healthy foods are great for lowering levels of the stress hormone cortisol. This will keep you happier and healthier and you will notice that you can focus on your work better than before as well.
8. Controls Blood Pressure
Eating processed foods which are rich in salt content and contain harmful ingredients like MSG is a major cause of the increase in blood pressure.
Keeping your diet healthy and with moderate salt content ensures that your blood pressure remains normal.
9. Makes Skin Glow
Eating unhealthy, fatty, and oily foods can cause major acne breakouts on your skin. You may also start showing signs of aging soon and your skin will look generally dull and unattractive.
When you start eating healthy food, you will notice your acne breakouts are disappearing and your skin has a beautiful radiance to it.
10. Reduces Signs of Aging
Processed and unhealthy food can cause free radicals on your skin to oxidize which can make signs of aging more visible. You might start noticing wrinkles and fine lines starting to appear at certain points on your face.
Eating healthy food ensures that these signs of aging take their sweet time to appear and you look young and radiant for a long time.
Author Bio: I'm Jeffrey blogger at Ittefaq Trading Co. Thank you for joining me as I share different aspects of my life, I'm so thrilled you stopped by! I love working to create a beautiful, thriving life around me and helping others do the same. I love writing about nature, health, Himalayan salt, and related topics.