5 Simple Ways on How to Get Rid of Brown Stains on Teeth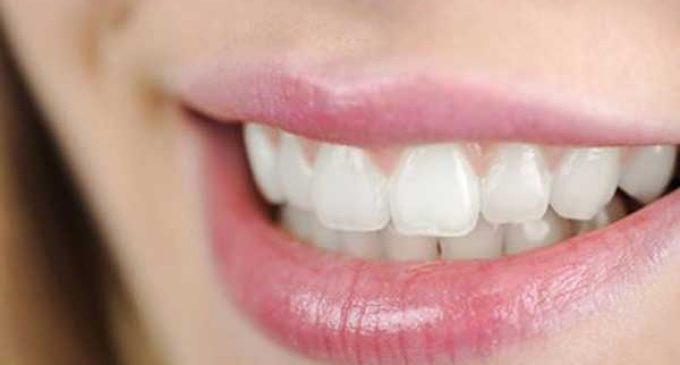 Home Remedies to get rid of Brown Stains on Teeth
A fine set of teeth creates a beautiful smile and attracts attention to the opposite person. So, everyone wants to have beautiful, shiny teeth to communicate confidently with others.
However, due to a variety of causes, your teeth become discolored. They are yellowish whitish or not normal whitish. Brown stains on your teeth not only makes you feel ashamed when communicating but also causes bad effects on your health in many different ways. Therefore, seeking ways on how to get rid of brown stains on teeth is very important.
In the article, let's find out causes of brown stains on teeth and effective solutions to this problem.
What causes Browns Stains on Teeth?
According to oral experts, there are six primary causes of tooth discoloration and brown stains in the following.
Chemical contamination
Excessive fluoride exposure in toothpaste can lead to the formation of white, even yellow or brown spots on teeth. In addition, in some places, there is a high content of fluoride in the water, which also makes the surface of the teeth are yellowish or brownish.
Medicine
Some antibiotics and over-the-counter medications can discolor your teeth, especially tetracyclines and antihistamines. Besides, antipsychotics and anti-allergy medications also contribute brown stains on your teeth. During pregnancy, if the mother uses many of these antibiotics, it will affect the whiteness of the baby's teeth later on.
Dental diseases
Tooth decay, gingival inflammation, and root canalization are factors that affect the color of the teeth. Gingivitis can spread to other strong teeth, while eroding tooth enamel, resulting in brown stains.
Genetic factors
Genes also play an important role in creating the texture of white and thick enamel. Some infections during pregnancy can also cause tooth discoloration in infants while they are teething.
Acidic foods and drinks
Highly acidic drinks and foods and sugar can make your teeth get stained. Moreover, consuming foods and drinks which are in rich sugar or have dark colors such as tea or coffee leads to tooth discoloration and brown stains as well.
In addition, hot or cold foods or drinks can affect your tooth enamel, causing cracks in your teeth, which make colorants easily penetrate your tooth enamel. Besides, smoking also causes tooth discoloration, even when you brush your teeth regularly. The chemicals in nicotine break the protective enamel layer, leading to yellowish teeth.
Poor oral hygiene
When you do not brush your teeth or do it inappropriately, it can provide opportunities for bacteria to settle on your diastema (gaps between teeth), making a thin yellow layer begin to cling to the teeth and gradually, your teeth turns yellow. It is one of the most common causes of tooth discoloration.
How to get rid of brown stains on teeth?
If you encounter one of the causes mentioned above, do not worry. Ten simple ways on how to get rid of brown stains on teeth with natural elements will help your teeth become whitening as you want.
1. Lemon
Lemon, which is plentiful of vitamin C, is used for drinking, detoxifying and purifying the body on summer days. Not only that, but it is also used for oral care, especially removing brown stains on your teeth, whitening the teeth, prevent bleeding root canals and give you fresh breath.
Method 1: Lemon juice and baking soda
Mix 2 teaspoons of baking soda and a tablespoon of boiling water in a bowl.
Add half a teaspoon of lemon juice to this mixture and stir well.
Rinse your mouth with the saline solution for about 3 minutes.
Dip a soft toothbrush into the mixture and then brush your teeth instead of toothpaste.
After 2 minutes, rinse your mouth with clean water.
Do this method twice every day before going to bed and after getting up.
Method 2: Lemon peel
Lemon peel contains pectin, calcium pectate, and flavonoids, which work to remove brown spots on the teeth, especially discolored by foods and drinks.
Dry a lemon peel and grind it.
Mix ground lemon peel with a little water to form a paste.
Put an adequate amount of the paste on the toothbrush.
Scrub the teeth thoroughly inside, outside of the teeth for 3 minutes.
Rinse your mouth with clean water without brushing your teeth with toothpaste.
For the first time, you will feel your teeth much cleaner. After two weeks, your teeth will become gradually whitish, and your breath is more pleasant while preventing the signs of periodontal inflammation and other dental diseases.
Notes:
Lemon contains a lot of citric acids, which has the effect of abrasion. You should use it reasonably to returns your whitening teeth.
You should not abuse this method because the high content of citric acids in lemon may cause tooth sensitivity and some other oral problems.
2. Apple cider vinegar
In apple cider vinegar, many types of acids have the effect of teeth whitening and antibacterial properties. It is considered as one of the effective ways on how to get rid of brown stains on teeth. If you regularly use apple cider vinegar as mouthwash, it will help your mouth be not only clean but also whitish.
Method 1: Pure apple cider vinegar
Drop a few drops of apple cider vinegar on the toothbrush and start brushing your teeth as usual.
Alternatively, take 1-2 tablespoons of apple cider vinegar and then spit it out. After that, use the toothbrush with toothpaste as normal.
Method 2: Apple cider vinegar and salt
The combination of apple cider vinegar and salt creates an effective tooth whitening mixture. In particular, salt helps to repel bacteria in the oral cavity, keep the breath fresh, reduce a toothache, tooth decay and prevent the formation and development of brown stains.
Mix a tablespoon of apple cider vinegar and a teaspoon of salt in a bowl.
Add two tablespoons of boiling water and stir well.
Hold this mixture in your mouth for 2-3 minutes.
Brush your teeth with toothpaste as usual.
Do two methods above twice or three times a week to remove thoroughly stubborn stains on your teeth and whiten your teeth. Note that you should not use apple cider vinegar too often, which cause sensitivity to your teeth.
3. Strawberry
In addition to a delicious, nutritious food, a strawberry is a way of caring the beauty, losing weight and whitening the teeth effectively. It contains a lot of malic acids, which helps to remove and prevent the formation of brown spots on the surface of the teeth, making teeth whitening.
The following are the ways on how to get rid of brown stains on teeth with strawberries.
Method 1: Eating strawberries
When you chew strawberries, malic acids will penetrate the teeth to astringent and remove the plaque. You should eat them several times a week to have whitening teeth.
Moreover, eating a strawberry after smoking or drinking coffee will help you to avoid staining your teeth effectively.
Method 2: Strawberry and salt
Crush a strawberry into very small pieces.
Mix the crushed strawberry with a teaspoon of salt water.
Spread the mixture onto the surface of your teeth with a toothbrush.
Leave it for 5 minutes and then brush your teeth with toothpaste.
You should only do this method twice or three times a week to avoid tooth sensitivity.
4. Baking soda
Baking soda, known as sodium bicarbonate, is white, soluble and hygroscopic. It is widely used in the food industry.
Aside from the benefits of skin care, baking soda is used as a substitute for toothpaste. To remove tooth discoloration, you can apply the following methods at home.
Method 1: Baking soda and water
Wet a toothbrush and dab the baking soda over it.
Brush your teeth gently with baking soda for 2-3 minutes.
Rinse your mouth with water until you feel your mouth clean.
You should do this twice or three times a week so that your teeth are not sensitive.
Method 2: Baking soda and salt
Salt helps remove plaque, kill bacteria in the oral cavity, so when it is combined with baking soda, the process of removing brown stains will be more effective.
Mix baking soda and salt in a bowl in a ratio of 3:1.
Add a little water to it to make a paste.
Dip a toothbrush into the mixture and then brush your teeth as normal.
Rinse your mouth with clean water.
Note that when using salt with baking soda, you make sure that the salt is completely dissolved before use. Salt crystals are quite hard, so when rubbing your teeth, they may cause damage to the enamel and gums.
5. Banana peel
Many foods are believed as ways on how to get rid of brown stains on teeth, but only a small number of these can be sufficient. Banana peel is one of these few useful foods.
Banana peels contain vitamin D and many other active substances, which not only remove all of the plagues but also whiten your teeth.
How to do:
Take the inside of banana peel to rub on your teeth both inside and outside. Note that you should use stronger force for the areas you feel stains browner.
Leave it for about 5 minutes.
Brush your teeth with normal toothpaste and rinse your mouth clean.
Author Bio (Jasmine He): Being interested in health and beauty as well as having a strong desire for the well-being, she has a broad knowledge of this area after having the patience to learn and experience it for a couple of years. Along with her current education job, she has now been working as a freelance writer on health and beauty. For further information, please visit the link here.